Click on your scale model of choice to see the models that are currently available and those that are not.
HOScale
HO scale...... Accurail 55 ton Interstate hopper. This car is black with white lettering. With the "Coal Goes To War" logo on the side. This product is out of production at this time.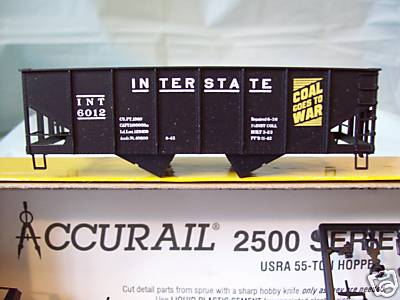 HO scale......Accurail 55 ton Interstate hopper kit. This car is black with white lettering. It doesn't have the "Coal goes to war" on the side. This product is still available.


HO-scale.....Digital Fox Limited Edition 55 ton "Coal goes to war" Coal Hopper Kit. They are custom run cars for Digital Fox by Accurail. There are 6 road numbers. They are #6032, #6520, #6287, #6875, #6354, and #6949. I have seen these cbay for $15.95 each.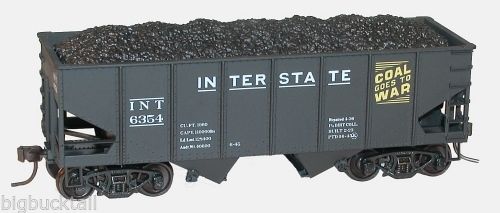 HO Scale......Atlas RS-3 Locomotive. The model is available with two road numbers, #33 and #38. I believe the model itself is a Phase I and the real Interstate units were Phase 3's. The model is missing the dynamic brake vent on the top of the short hood. Overall the model is a great edition to the model railroad world. I am glad to see Atlas offer this paint scheme. February 2008 to the present.




O Scale......This is an MTH 20-3197-2 Interstate 2-8-2 Mikado Steam Engine w/Proto-Sound 2.0 for 2-rail DC operation with Scale Wheels.

O scale.....Interstate 2 Bay Hopper with "Coal Goes to War" slogan made by Weaver.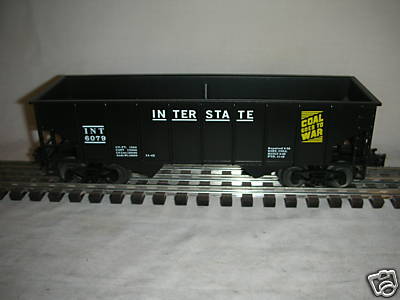 G scale.....Aristo-Craft Interstate RS-3. This was club item only. Offered in Nov/Dec 2008.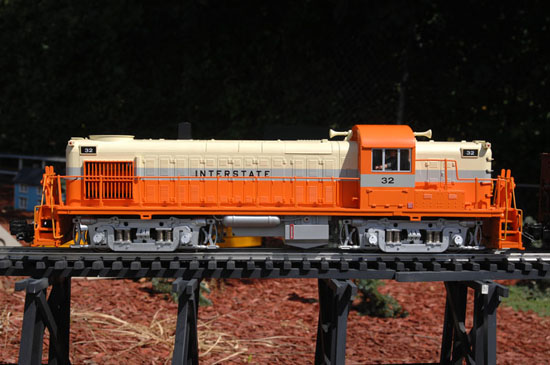 G Scale.....Aristo-Craft Interstate 2 bay hopper in the post merger paint scheme. This is the hopper brown with large white lettering in southern style print. This was also a club item only.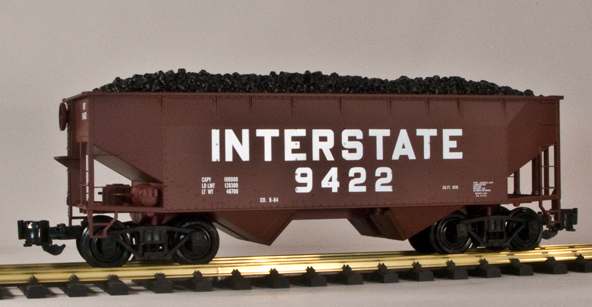 Kits

Funaro & Camerlengo makes a Southern Wood caboose that could be used to create the number 18 and 19 cabs. There are no decals available for Interstate cabs, but it shouldn't be to hard to make your own. The kit numbers are C-506 and C-507. One kit is for Multi-pane windows and the other is single pane. It doesn't matter which kit you buy, the kit has parts for both cabs. The kits are $29.99.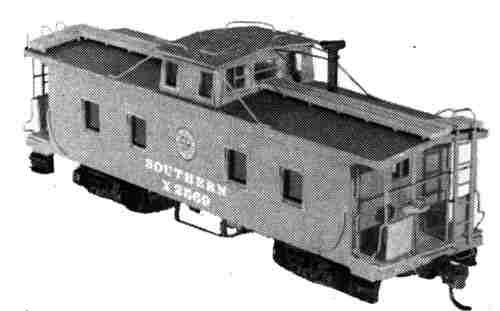 Bethlehem Car Works has released a new kit in HO scale. It is a Interstate caboose. The kit will build number 20 and 21 cabs. These are the two cabooses that were purchased from Lackawanna. The kit has 4 windows on each side, so it is good for the June 1954 to May 1968. These cabs were rebuild in 1968 to 2 windows and different siding. The price for the kit is $65.00. The cab is listed under the Sparrow's point product line.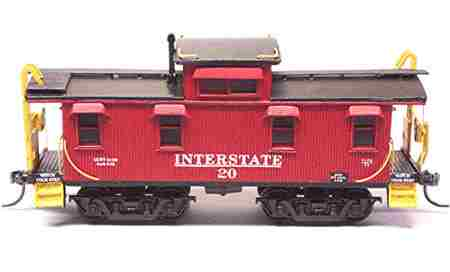 Decals
Great Decals makes a set of decals for the 55 ton 2 bay hopper. These are available in HO and

N scale. They also have a set of decals to do the RS3 Diesels.
Walthers made a set of Interstate hopper decals a few years back. They were only available in HO scale. The part number was 934-104330. They appear on E-bay every now and then.

Projects
HO Scale Interstate RS3
List of Materials:
Stewart RS-3 Phase III Kit
Great Decals #29 Interstate Road Diesel
Polly Scale #414119 Reefer Orange
" " #414131 Aged White
" " #414332 New Gravel Gray
" " #414290 Engine Black
" " #501998 Bright Silver
Detail Associates #1904 Air Vent
" " #3404 Dyn. Brake & Steam Gen. Alco RS3
" " #1107 Alco Lift Ring
" " #2312 Cab Deflector
" " #1012 Dual Headlight - "Pyle"
" " #1508 MU Air Hoses
" " #1408 Drop Step Alco Long
" " #2202 Grab Irons
" " #2204 Coupler Lift Bar w/Bracket
MV Products #LS19 Light Lenses for DA #1012
Custom Finishes #205 Curved Grab Irons
" " #152 Cooling Coils
A-Line #29201 Short Windshield Wipers
" #29210 Sunshades - Etched Metal
" #29216 Brass Chain